The "PU Series" are hifi speakers systems which now includes five models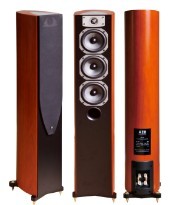 AER ACOUSTIC——"PU Series"

As a new product line of AER ACOUSTIC, the "PU Series" are hifi speakers
systems which now includes five models: PU-50 tower speakers, bookshelf,
PU-60 tower speakers, bookshelf, and PU-50/60 center speaker. The unique
"U" style cabinet is suppressed by multi-layer quality MDF, it enjoys elegant
appearance and high frequency solidifying and shaping. When compared
with traditional speakers, the Lifestyle with new structure enjoy more strength,
excellent toughness and high performance of anti standing wave inside cabinet.
Through the PU painting of U style cabinet, you can see decorating walnut
veneerflowing out soft luster, so better compatible with decorations of modern family.
Towers are with four drivers and 3-way bass reflex, from top to bottom are one
tweeter, one midrange and two woofers. Diameter of tweeter is 25mm, with silk
diaphragm and NdFeB magnet, works with diffuser in front of diaphragm,
releases clear transparent high frequency with super wide diffusing. The cone-shape
diaphragms of midrange and woofer are suppressed double layers made from glass
fibers and traditional cones. Thus the diaphragms keep super strong, ultra light
andsuitable damping. Tweeter and midrange enjoy a separate small cabinet space, so
when playing music the woofer will not interfere with midrange, assure a clear
midfrequency. Because of rational designed crossover, certainly the two
woofers working at the same phase with midrange, providing the best bass
response and soundwhich is naturally like listening full frequency driver.